Babaji's Kriya Yoga Grace Course - A Course of Lessons Enabling Two Years of Self-Exploration and Discovery.
No true progress can be made without Grace.
Yogic self-study and self-discipline facilitate Grace.
Self-discipline involving awareness of our actions and reactions,
prepare the way for Grace to flow.

Click here for full details.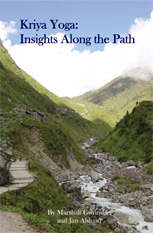 Kriya Yoga: Insights Along the Path
Marshall Govindan and Jan (Durga) Ahlund

My wife, Jan "Durga" Ahlund and I have recognized for many years the need for a book that would explain to both those interested in learning Kriya Yoga and those already embarked on its path, why they should practice it, what are the difficulties, and how to overcome them. We believe that this book will help prepare everyone for the challenges and opportunities that Kriya Yoga provides. Every one of us faces the resistance of our human nature, ignorance as to our true identity, and karma, the consequences of years of conditioning by our thoughts, words and actions. By cultivating aspiration for the Divine, rejecting egoism and its manifestations, and surrendering to our higher Self, pure Witness consciousness, we can overcome this resistance, our karma and the many obstacles on the path. But, to do so, we need much support and insight along the way.
The New Second edition of the
Tirumandiram is NOW available

Visit the
Bookstore
for more details and sale
Annual report 2022 and plan for 2023

Babaji's Kriya Yoga Order of Acharyas
The Yoga Toolbox - An everyday guide for shaping your future
Jan (Durga) Ahlund

Offers lessons in simple tools to live a long, healthy and happy life. It is written for those who wish to develop their understanding of Yoga and Meditation. Yoga and meditation can bring relief and promote healing from the effects of a stress and bad habits on the physical body, the emotions and the mind. Each of the fourteen different sessions you will learn to practice is designed to address a specific objective that will allow you to shape your future. The objectives include:
gaining access to unlimited power
purifying the five bodies or sheaths
developing concentration through controlled breathing
becoming flexible in life, starting with the spine
connecting to "the inner sun" for self healing
bending forward into stress and change
removing tension and blockages in the joints
developing a strong nervous system
learning to bend backwards, digest and let go
reversing depression or sadness
stand up, be centered and act dynamically
developing deep, restful sleep
overcoming negative conditioning
mastering the art of meditation
using the power of mudras (psycho-physical gestures) to change your life
using Yoga-Nidra (deep relaxation and yogic rest) for Self awareness and to re-program your future
New Ebook: "Recovering the Self: Essays on Babaji's Kriya Yoga"
by Nityananda

This ebook lovingly offers personal insights and experiences, which Nityananda has had with Babaji's Kriya Yoga over his decades of practice. This work describes the origin of this Kriya Yoga path and explains in an easy and interesting way its many different aspects and benefits. It also analyzes the challenges that the student must face, grants understanding of them and proposes different useful suggestions to improve the yogic practice in one's personal life.
If you are thinking about Initiation into Babaji's Kriya Yoga, these texts will give you a general view of it, a useful introduction. If you are already initiated, they will support you and guide you in your practice, providing you with a better understanding of the path, the pitfalls inherent in it, and how to advance successfully along it.