Badrinath Ashram - October 5, 2017
---
---
Badrinath Ashram construction October 5, 2016
---
Badrinath Ashram construction September 1-18, 2016
---
Badrinath Ashram construction October 1-8, 2015
---
---
1st initiation in Bangalore, March, 2023 with Acharya Gurudasan
---
Third initiation, Bangalore, February 23 to March 3, 2018 with Acharya Satyananda
---
---
"M. Govindan Satchidananda has been given the honorary "Patanjali Award" for 2014
for his outstanding service to Yoga by the Swami Maitreyananda,
President of Yoga Alliance International, (also known as the International Yoga Federation).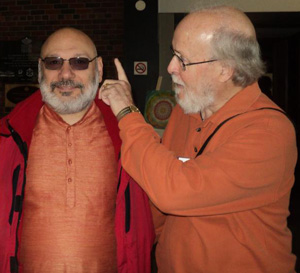 Yoga Alliance International is the oldest and largest international Yoga association and registry of Yoga teachers.
Satchidananda has been added to a long list of recipients who have received this award every year since 1986.

See the list of previous recipients of this award here:
https://www.internationalyogafederation.net/patanjali.html
Satchidanananda has been a member of its World Council since 2008.
Swami Maitreyananda wrote on his website after they met in November 2012, in Quebec:
"Marshall Govindan Satchidananda is not only the most famous Yoga Master of Kriya Yoga in the world, he also has done an amazing job for Kriya Yoga,
I can only compare with Paramahansa Yogananda. Govindan Satchidananda is the spirit of Babaji"

Swami Sai Sivananda, President of the Federation Francophone de Yoga presents the award to M. G. Satchidananda
---
---
---
---
---
---
---
Babaji's Kriya Yoga Order of Acharyas is building a new classroom at a school which serves 150 children in the remote Himalayan village of Budhna, which is 70 km from Rudraprayag. It will be completed in April 2015. In the winter of 2014, the Order received and sent $14,000 to the support of the village of Ucchiwara, in response to the tsunami rain storm in that area, June 27, 2013. The current effort applies continuing donations received for this purpose since then.
---

Acharya Siddhananda Sita (center holding picture) gave the first initiation into Babaji's Kriya Yoga in Paris,
France, June 3-5, 2016 to 30 aspiring persons. She may be contacted at sita
---

M. G. Satchidananda and 42 participants in the 3rd initiation in Cunha, Brazil, November 14-22, 2015.
Seated next to him in the center are Ramani and Narada, owners of the Flora des Alguas retreat center
---
---

Durga Ahlund, M. G. Satchidananda and participants in the Kriya Hatha Yoga Teacher Training, Quebec Ashram September 1, 2014
---

M. G. Satchidananda, 3rd initiation, Lilleoru, Estonia, August 21, 2014
---

Here is the group who received the 3rd initiation into the 144 Kriyas
from M. G.Satchidananda at the Chateau Fondjouan,
near Orleans, France, August 22-29, 2014
---
Pilgrimage to Babaji Ashram, Katargama, Sri Lanka January 9-16, 2014
Babaji's Kriya Yoga Ashram in Katargama

Babaji's Kriya Yoga Ashram on the seashore in Dehiwala, south of Columbo
---
---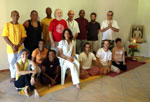 M G Satchidananda and Acharya Siddhanananda Sita gave the 2nd initiation to 13 students at a beach side retreat on the island of Martinique, in the Caribbean, April 6-8, 2013
---
Images of Sri Lanka Retreat 2013
---
---
---
We are happy to announce that the "Babaji Koil" temple at Katirgama, Sri Lanka (see photos below) has been resurfaced with ceramic tile, and that a granite monument sign has been erected next to it. This temple marks the spot where Babaji was initiated into Yoga by the Siddhar Boganathar, and experienced God realization. For more details click here
---
In front of the Babaji Koil temple in Katargama, Sri Lanka, situated on the spot where Babaji did tapas and attained enlightenment, a "mandapam" canopy has been recently built to provide shade to visitors who wish to meditate. The construction of a meditation hall just behind the temple is planned. Kriya Yoga sadhaks from around the world are contributing to this project. If you would like to contribute, click here
---
---
---
Acharya Satyananda conducted a retreat with a second initiation in Babaji's Kriya Yoga near Mumbai, February 10-12, 2012
---
---
---
---
---
---